Posted
September 8, 2017 by admin
in
Will the Thrill's Power Rankings – 5A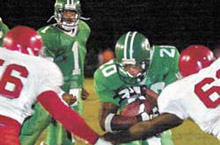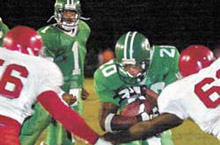 Will the Thrill's Power Rankings – 5A
Welcome to our all-new Will the Thrill Power Rankings for all of the MSHAA. The rankings are based upon strength of schedule, offensive strength, and defensive ability. The rankings are bought to you as food for thought and are non-binding.
Week 5 – Division 5A
Olive Branch continues to the lead 5A with an average of 26.5, a point ahead of streaking Hattiesburg (4-0). Picayune moves up to no. 4 after an opening season loss to Poplarville. Long Beach drops to 11 after a loss to Greene County. Hanging back because of the power ranking but the highest ranked team in writer's poll, West Point is a dangerous number 13.
Sweet 16

TEAMS(REGION)     W  L  PP1 PP2 PP3  PTS   AVG.   RANK
OLIVE BRANCH	  2  0	22   3	 28   53  26.500     1
HATTIESBURG	  4  0	38   7	 56  101  25.250     2
CLEVELAND CENTRAL 5  0	39   7	 70  116  23.200     3
PICAYUNE	  3  1	40   9	 42   91  22.750     4
NORTH PIKE	  4  0	24   7	 56   87  21.750     5
SOUTH JONES	  4  1	41   9	 56  106  21.200     6
STONE	          2  1  29   6   28   63  21.000     7
BROOKHAVEN	  3  1	32   9	 42   83  20.750     8
CANTON	          4  1  37  10   56  103  20.600     9
LAUREL	          2  2  40  10   28   78  19.500    10
LONG BEACH	  3  1	28   7	 42   77  19.250    11
CALLAWAY	  2  2	36  10	 28   74  18.500    12
WEST POINT	  4  0	11   6	 56   73  18.250    13
NATCHEZ	          3  1  20   9   42   71  17.750    14
WAYNE COUNTY	  2  2	32  10	 28   70  17.500    15
SALTILLO	  3  2	27  14	 42   83  16.600    16