Submit your Ahhh Nuts! Play!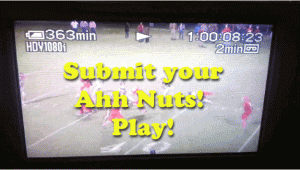 What's an Ahh Nuts Play?
An Ahh Nut's Play is a play either good or bad that makes you say…….Ahh Nuts!
Mississippi Peanut Growers is again sponsoring the Ahh Nuts! Play of the Week and wants you to submit your favorite play.
Here's how:
From your cell phone:
Find your Ahh Nuts! video on your phone.
Select to send your video via email.
Send it to: ahhnuts@fnutl.com
NOTE: Sending videos via your phone may incur charges with your phone carrier.
NOTE: If the videos are large, it may take a while to send.
From this page:

You can submit by using the Upload button listed below.
1) Click "Select File", and choose the selected play.
2) Once it is selected, it will show up in the box. After selecting the file, press the "Upload File" button.
3) Once uploaded, it will show that the file has been successfully uploaded in a green dialog box. That's it! Thanks for uploading!
NOTE: Files are limited to 128MB.