Week 5: FNUTL's Top Ten Games of the Week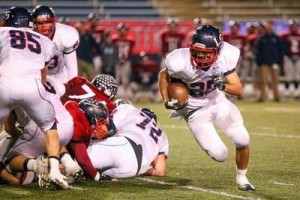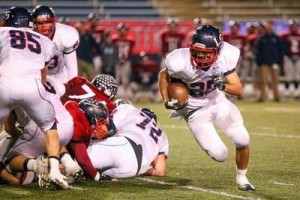 FNUTL Top Ten Games of the Week:  Week 5
NE Lauderdale Vs Lamar – Right off the bat, No. 1 is also our Perfectly Powerful Game of the Week. In an Intercity battle, the MAIS Lamar Raiders (3-1) are hosting the NE Lauderdale Trojans in a non-conference game for bragging rights.  NE Lauderdale is 2-2 after a 20-17 loss to Forest while the Raiders defeated Starkville Academy.  With nothing to fight for in standings or division, this one will be played for pride.
Lawrence County (3-1) at Franklin County (3-1) – Both teams have corresponding 3-1 records but this may be the battle between the irresistible force and the immovable object. Lawrence County has 134 points in 4 games for an average of 33.5 points a game while Franklin County is only yielding a stingy 11.0 points a game.  Looks to be a great match.
Rosa Fort (4-0) at Clarksdale (3-1) – Rosa Fort "punches up" fighting 5A Clarksdale. Clarksdale has an impressive 3-1 record including a win over Tupelo.  Rosa Fort has a glittering 4-0 record, averaging 33 points a game while only giving up 11.  It's even up with two excellent teams in this 4A/5A matchup.
Florence (3-1) at Morton (3-1) – There must be something in the water at Florence. Under Steve Pruett the Eagles are 3-1 with an incredible 73-21 win over McLaurin.  Morton is 3-1 as well, but with the other side of the field, pitching a shutout against Raymond and only a safety against West Lauderdale.  If both sides have their game on this is a wire-to-wire game.
Lafayette (3-1) at Louisville (3-1) – Two perennial playoff teams match up with 3-1 records. Louisville is coming off a 51-0 pounding of another perennial playoff team, Philadelphia.  Lafayette is coming off its first loss a 31-21 decision to Oxford.  Lafayette hopes to get up off the ground this week, but Louisville may have nothing of it.
Clarkdale (4-0) at Puckett (3-1) – The good play just keeps coming. The 2A Clarkedale Bulldogs take their sparkling 4-0 record to Puckett to play the Wolves, 3-0 after losing its season opener.  This may be a defense-is-only-a-rumor game; Clarkdale is averaging 40.5 points a game while Puckett is a more pedestrian 38.25 points a game.
Oak Grove (2-1) at Hattiesburg (4-0) – The Oak Grove Warriors move out of the friendly confines where they play basketball on grass and go into the heart of the tiger den. Hattiesburg Tigers, that is, 4-0 with their Perfectly Powerful Peanut Improbable Game of the Week win over Laurel.  Since then the Tiger have not looked back.  If you're not slated to go see your team, this would be a fun game to go watch.
MRA (3-1) at Jackson Prep (4-0) – With Jackson Academy suffering a difficult start, it falls on Madison-Ridgeland to give Prep competition for the MAIS AAAA division. MRA and Prep have both been stellar on offense with MRA averaging 37.25 points a game and Prep averaging 35.25.  However, the great story is Prep's defense is holding their opponents to less than 10 points a game, including pitching a shutout against Pillow.
Collins (3-1) at Taylorsville (2-2) – In week 4, 5A Hattiesburg went to 3A Collins and left with a 28-26 win, surviving a 20 point rush that nearly defeated the Tigers. The Collins Tigers shook it off and pulled off a huge win against Bassfield 46-20.  Taking on Collins is the Mongol Hoard, the Tartars of Taylorsville.   The Tartars won a wild one last week, a 62-56 win over Raleigh.  How would you like to score 62 points and only win by a touchdown?  Or score 56 and lose by one?  It could be a track meet:  Collins is average 40 points a game and Taylorsville is averaging 34.5.
Brandon (3-1) at Northwest Rankin (4-0) – This Week's FNUTL Games of the Week are a series of great early season records, and these teams round out a great group. The Brandon Bulldogs have been knocking for many years, wondering if this is the one.  This year they start 3-1 with a 41-17 win over Tupelo and a 29-28 squeaker against Clinton.  Brandon city rival NW Rankin has a perfect 4-0 record and have blanked Ridgeland and beaten newly minted powerhouse Germantown.  It's a 6A matchup in Brandon this week!
That's it folks.  Go out and enjoy all the action!