Week 8: FNUTL Top Ten Games of the Week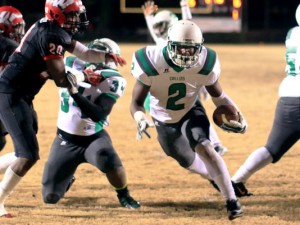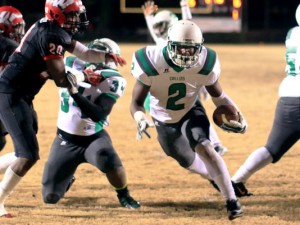 We're in Week 8 folks, and they games get better and better.  Without further adieu , let's list our Top Ten Games!
1 – Tylertown (6-0) at Collins (6-1) – Our FNUTL Perfectly Powerful Peanut Game of the Week.  A game with playoff implications.  No. 1 and 2, amazingly are not in first place in 3A District 8, that place being held by West Marion with a spotless 7-0 and having played one more game.  Tylertown is the immovable object, yielding less than 11 points a game.  Collins is the irresistible object, piling up an amazing 45 points a game.  Who will win?  Find out here!
2 – South Panola (6-0) at Hernando (6-1) – How can the 6A champion fly under radar?  You can when you've been a 10-time champion and are expected in the game every year, ranked 27th nationally, and No.1 again.  You're expected to win, and you do.  They face Hernando in a division game, 1-1 in the district and winners over Southaven.  Hernando has had a good run but must be perfect to beat South Panola.
3 – Warrant Central (5-1) at Madison Central (4-3) – The Vikings have a great start this year, 5-1 and 2-0 in the district.  Madison Central has a respectable 4-3 record with a 1-1 record in the district.  The key to this game will be at the end.  Madison Central scores early while Warren Central scores late.  Success for Madison Central is possible if they can take a significant lead early.
4 – Oak Grove (5-1) at Meridian (3-3) – No one takes Meridian Lightly, and you can bet Coach Breeland isn't letting his Warriors believe that 3-3 record.  Look closer, the Meridian is 2-0 and second in 6A Region 3, behind Brandon and ahead of Oak Grove.  Playing in Meridian will nullify the Oak Grove field advantage.  While most of the action is expect when the Warriors are on offense, stay tuned when Meridian has the ball and their effectiveness against the Oak Grove defense.
5 – Picayune (3-3) at Hattiesburg (6-1) – The Maroon Tide spent the early part of the season punching up to heavy competition so they would be ready for the heart of the season, and here comes their biggest test.  Those Hattiesburg Tigers are 6-1, ranked 10th in the state by MaxPreps, and averaging over 30 points a game.  Picayune has more points scored against them than for them (209 points for vs 217 points against), but that's all preseason to 5A Region 4 action.  There is a four-way tie at no. 1 right now (Hattiesburg, Pascagoula, Picayune, and Pearl River Central), and this game will take a long step towards winning the region.
6 – Winona (6-1) at East Webster (6-1) – Up in Montgomery County the Winona Tigers have run off to a 6-1 start, thanks to a stellar defense that's only giving up a touchdown a game and an offense that's piled up 194 points.  In Maben the East Webster Wolverines are hoping to tap the brakes on the Tigers.  There's a sense of urgency for East Webster; they're 0-1 in 2A Region 4 after losing to Calhoun City and need to turn their own ship quick.  You don't want to say "must game" to soon in the year but they're in fifth and need this to move up quickly.
7 – Florence (5-2) at North Pike (4-2) – There's more than fluoride in the water in Florence;  the 5-2 Eagles is averaging 38 points a game through 7 games and hung 69 on Richland last week, their first in 4A Region 6.  The North Pike Jaguars have a fine 4-2 record but are coming off a disappointing opening loss in the region to Lawrence County 42-14.  The Wolverines have a hard slough through the Region and it starts with Florence.  It will be difficult; their defense is averaging giving up 30 points a game, not a cheerful thought playing a team that has been scoring by the bucketful.
8 – Lake (6-0) at Puckett (6-1) – The Hornets of Lake are one of the few undefeated teams left.  Sporting a spotless 6-0 record, the 2A Region 6 team is also 1-0 in the region. Averaging 37 points a game while yielding less than 8 per game, they've won on both sides of the field.  Puckett at 6-1 lost their first game but has since reeled off 6 wins in a row while averaging an over-the-top 40 points a game on offense.  If both offenses get cranked up, I hope they have an extra supply of scoreboard bulbs.
9 – Brandon (6-1) at Petal (3-3) – The Brandon Bulldogs is similar to the Petal Panthers 5 years ago where they were mentioned as one of those potential state championships that has the tools but needs to make that one great leap to the winner's circle.  This might be the year.  Ranked 5th in the state by MasPreps and 112th nationally, the Bulldogs have been everything that has been expected.  They lead 6A Region 3 and in their two region games they have averaged 43 points a game while yielding only 13 points total.  Against this those same Petal Panthers, 1-1 in the region will attempt to stop their march to Oxford.  Petal at least will play in the friendly confines of their wonderful stadium, and hopefully the homefield advantage will help them battle those Brandon Bulldogs.
10 – East Central (4-2) at Pass Christian (4-2) – Down in the 228 the East Central Hornets of Moss Point and the Pass Christian Pirates are off to their best start in years.  Special credit to the Pirates, who only won 2 games last year.  East Central and Pass High currently share no. 1 with St. Stanislaus, and the winner may gain some distance between the loser.  East Central has played steady consistent football, averaging 25 points a game while giving up 18 a game.  Pass High has scored 24 points a game but has a crushing defense, giving up less than 8 points a game, including a shut out last week against Bay St. Louis.  Expect both these teams on opposite ends of the coast to meet in a game that will match anything they have done all year.