Week 12: Playoff Week 2: FNUTL Games of the Week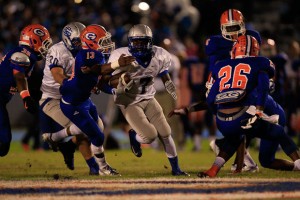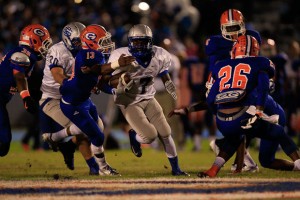 Playoffs Week Two
Week of November 13
It's PLAYOFF WEEKEND. Last week the first round of playoffs started while 6A and 1A were finishing their regular season. We're now in the every-game-counts, where it's win-or-go-home. FNUTL looked over the list and chose these as the top 10 Games of Playoff Week.
1 Meridian (6-5) at Gulfport (9-2) – 6A first round – Gulfport came a long way from earlier bumps in the season to win 8 in a row, including an impressive 24-7 against Ocean Springs. Meridian took it on the chin all year but are no one's walk-in playoff team. They've won their last two games and are 5-2 in 6A Region 3. Watch Meridian's defense turn it up a notch for this game.
2 Germantown (8-3) vs Lake Cormorant (7-5) – 5A first round – Germantown has only been around for 5 or so years but are in the playoffs. Now comes the hard part, meeting expectations. With an offense averaging 40 points a game, they meet Lake Cormorant, losers of the last two but another 40 point a game team. Watch for an over/under of 65.
3 Laurel (8-3) vs Hattiesburg (8-4) – 5A first round – Here we are right back at the Battle of the Little Brown Jug, Part II. After a crazy opening game in which Hattiesburg scored 3 times in the last four minutes to win the first game of the year, Laurel needs little reason to avenge their loss Between the Bricks. This is a toss-up.
4 Noxubee County (8-4) at Lafayette (10-2) – 4A second round – A traditional powerhouse, Noxubee County, holder of a six game win streak and a stiff defense, takes on Lafayette, 10-2 and a tough defense of their own. Look for a coach's battle and scores below 30.
5 Senatobia (10-1) vs Kosciusko (9-2) – 4A second round – Did I say defense? Another winner on the other side of the ball, Senatobia holds their opponents to under 10 points a game while averaging 35. Kosciusko is now slouch. The Whippets have won 5 in a row and average 30 points a game while yielding only two touchdowns. Another battle to the end.
6 Charleston (10-2) vs North Pontotoc (9-3) – 3A second round – The Tigers of Charleston are a perfect 5-0 in their district and rank 52nd in the state by MaxPreps. Another defensive team with a crushing offense, they play the North Pontotoc Vikings of Ecru, 9-3, no top 100 MaxPreps ranking but a team that deserves to be there. Can the Vikings handle the first quarter rush? We'll see.
7 Hazlehurst (11-0) vs Forest (9-2) – 3A second round – The Forest Bearcats have had a great season. 9-2, ranked 50th in the state by MaxPreps, and a strong offense. They will meet one of the only undefeated teams left, the Hazlehurst Indians, ranked 40th in the state, dominant on both sides of the ball and challenged rarely during the season. All arrows point to Hazlehurst but Forest is one of those perineal championship teams. This may be a slug fest.
8 Raleigh (10-2) vs West Marion (11-1) – 3A second round – The West Marion Trojans lost only once this year to the Collins Tigers. The Trojans played in a tough region, and maybe that will get them past the Raleigh Lions, winners of 7 in a row and a team that spelled point on both sides, averaging a crazy 50 points a game while giving up 30 points. Who knows? Keep the extra scoreboard lightbulbs ready.
9 Calhoun City (9-3) vs Strayhorn (8-4) – 2A second round – In 2A action the Calhoun City Wildcats are 9-3 and ranked 66th in the state and holders of an excellent defense. The Strayhorn Mustangs of Sarah also had an excellent season, 8-3 and winners off 3 in a row. Once again, it's defense that will determine the winner.
10 Clinton (7-4) at Columbus (8-3) – 6A first round – The Clinton Arrows have had a tough season, matching against the best, losing 4 but still ranked 9th in the state. Let's see how it helps them in the playoffs. The Columbus Falcons march in just as impressive, ranked 12th in the state and just as battle ready. Can Clinton get over the hump that a good regular season team has to and get to the next level? The Falcons might have an answer.