Will the Thrill's Power Rankings – 5A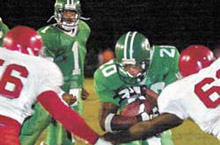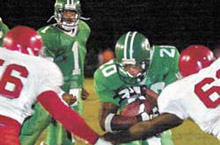 Will the Thrill's Power Rankings – 5A
Welcome to our all-new Will the Thrill Power Rankings for all of the MSHAA. The rankings are based upon strength of schedule, offensive strength, and defensive ability. The rankings are bought to you as food for thought and are non-binding.
Week 1 – Division 5A
West Point is the undisputed #1 rolling into the playoffs. Hattiesburg, after a win against Long Beach is one of the unbeatens with a 9-0 record. Cleveland Central returns at number 3 with the other perfect record at 10-0. Brookhaven with an impressive year is #4, followed by a surprising West Jones at 7-2, Olive Branch still maintaining at #6, and Picayune at #7.
Sweet 16

			        PP1  PP2    PP3			CLASS
			        UP   OPPO.  OWN	 POWER		5A
SCHOOL(REGION/DISTRICT)	 W  L	FRNT WINS   WINS POINTS	AVG.	RANKINGS
WEST POINT(1-5A)	 9  0	81    42    126	 249	27.667	 1
HATTIESBURG(4-5A)	 9  0	83    36    126	 245	27.222	 2
CLEVELAND CENTRAL(2-5A)	10  0	84    41    140	 265	26.500	 3
BROOKHAVEN(3-5A)	 8  1	77    40    112	 229	25.444	 4
WEST JONES(3-5A)	 7  2	71    40     98	 209	23.222	 5
OLIVE BRANCH(1-5A)	 6  1	67    28     84	 179	25.571	 6
PICAYUNE(4-5A)	         7  2	85    46     98	 229	25.444	 7
STONE(4-5A)	         5  3	74    39     70	 183	22.875	 8
LAUREL(3-5A)	         5  4	85    48     70	 203	22.556	 9
SOUTH JONES(3-5A)	 7  3	86    39     98	 223	22.300	10
GERMANTOWN(2-5A)	 5  4	83    47     70	 200	22.222	11
WAYNE COUNTY(4-5A)	 4  5	77    51     70	 198	22.000	12
CALLAWAY(2-5A)	         5  4	81    44     70	 195	21.667	13
LONG BEACH(4-5A)	 6  3	73    32     84	 189	21.000	14
NATCHEZ(3-5A)	         5  4	65    50     70	 185	20.556	15
GRENADA(1-5A)	         4  5	79    49     56	 184	20.444	16