Week 4: FNUTL's Top Ten Games of the Week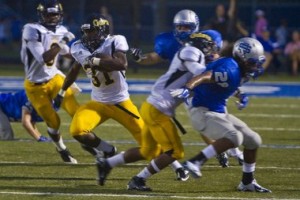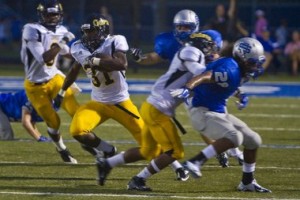 This weeks top ten games of the week:
1) Jackson Prep (3-0) at Pillow Academy (2-1) – Jackson Prep travels to Greenwood to meet Pillow Academy. Prep is in its traditional position leading the MAIS AAAA District 3 while Pillow with strong defense leads the MAIS AAAA District 1 over traditional powerhouses MRA and Jackson Academy. Pillow doesn't want to give up any ground and is ready to fight it out.
2 ) South Panola (3-0)at Madison Central (3-0) – a great Thursday night match-up between undefeateds. South Panola is ranked 10th in the nation by MaxPreps and Madison Central is ranked nationally 47th. No 1 and no. 2 in the state go head-to-head early.
3) DeSoto Central (3-1) vs Lake Cormorant (2-1) – ranked 37th in the state, DeSoto Central takes on Lake Cormorant, their first in-state rival after 3 teams from Tennessee and one from Florida. Lake Cormorant had a decisive 55-6 victory over Holly Springs last week and would like to use this last non-conference game as a springboard into district play.
4) West Point (1-1) vs Columbus (2-1) – The Green Wave takes on Columbus at home against a team ranked 25 in the state. In a district that boasts no less than South Panola and only one team with a losing record, Columbus wants this one before they start regular play. They'll have to get through West Point, who needs a bounce-back game after losing last week.
5) Pascagoula (2-1) vs George County (3-0) – The Greyhounds can't catch their breath this week; they play a George County team ranked 34th and undefeated. Pascagoula's Spivery is red-hot at quarterback, completing 71% of his passes for 636 yards and 3 touchdowns, and rushed for 253 yards and seven more scores.
6) Provine (2-1) vs Murrah (1-1) – JPS perennial powerhouses Provine and Murrah tee it up this Friday. Provine lost to Callaway last week 27-21 in overtime and wants that one back by playing a Murrah team at 1-1 and need a win before they start district play.
7) Oxford (1-2) vs Lafayette (3-0) – Still ranked 6th in the state, Oxford has stumbled out of the gate with two losses, including a 31-29 squeaker against Madison Central. They need to be on their toes against playing in the annual Crosstown Classic against Lafayette, undefeated and coming off a 20-14 win over Granada.
8) Holmes County Central (3-0) vs Kosciusko (2-0) – There are 38 remaining teams that are undefeated, and two of them play in this game. The Whippets of Kosciusko are off and running with a stingy defense that blanked Northeast Lauderdale and held Neshoba Central to 16 points. Holmes County Central has done the same, holding their opponents to an average of just over 8 points a game. Watch for a battle in the trenches.
9) South Jones (2-1) vs Northeast Jones (2-0) – Want to know how badly these two teams want it? You guessed it, that much. After a surprising loss to Pass Christian last week 34-14, South Jones looks to get back against their rivals, the Tigers of Northeast Jones. After beating West Jones 15-7 in week 2, the Tigers want the Joneses rapped up for themselves. It's the Battle of the Jones Boys in Laurel.
10) St. Andrews (2-1) vs Madison-St. Joseph (1-2) – It's the Holy War, aka, the Secular Skirmish. Since 2004, these two teams in all sports have played each other with St. Joseph holding a razor-thin 42-41 advantage. Watch for St. Andrews to work to even it up. Watch the game here! It's our Perfectly Powerful Game of the Week!