Week 7: FNUTL Top 10 Games of the Week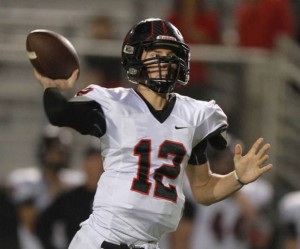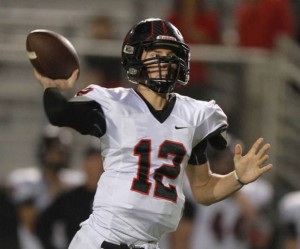 Welcome to Week 7 folks!  We have a great lineup of teams this week.  Two of them are undefeated, all are in regional play, and from MAIS to MHSAA, from 6A to 1A, there are some major games.
Let's go!
1 – St. Stanislaus (2-3)  Vs. Vancleave  (2-4) – This Week's Perfectly Powerful Peanut Game of the Week may also be called the Record Means Nothing game of the week.  The Rockachaws of St. Stanislaus is fooling no one, with their 3 losses against Brother Martin of New Orleans, a 28-20 squeaker against 6A Gulfport, and a loss to St. Paul's Episcopal of Mobile.  Vancleave has 13-10 losses to Northview and Greene County.  Look for Myles Brennan of St. Stanislaus to try to get to even in one game; he currently has an amazing 1,801 yards passing, or 325 yards a game.
2 – Oak Grove (4-1) vs Petal (4-2) – A major battle in 6A Region 3.  Choose which facility to play at; they're both great.  South Central Mississippi has become a hotbed of great football with Hattiesburg and these two teams.  Expect both teams to burn out the lights on the scoreboard; Oak Grove and Petal are averaging 33.8 and 30.0 respectively on offense, but are giving up 28.2 and 24.3 points respectively on defense.  A definite game to watch if your team isn't playing.
3 – Ocean Springs (4-1) vs D'Iberville (3-2) – The Greyhounds make our list two weeks in a row.  After a win against Hancock (17-13), Ocean Springs steps into the ring against 6A Region 4 opponent the Warriors of D'Iberville.  The game could be one when D'Iberville has the ball.  The Warriors are averaging 34.5 points a game while the Greyhounds are yielding only 17.8.  A true test by both teams.
4 – Lawrence County (4-1) at North Pike (4-1) – Normally a basketball powerhouse, the Cougars of Lawrence County have had a great start in Monticello.  Friday night they play their first Region game against North Pike, with an identical 4-1 record.  The Cougars have done it on a dynamic offense, averaging 35 points a game and have won four in a row.  Similarly North Pike has a three game win streak and are averaging 44.6 points a game.  Expect points to be piled up in this region matchup.
5 – East Rankin (4-1) at Lamar (4-2) – In MAIS action, the 4-1 East Rankin Academy Patriots are matched up against one of FNUTL's PPP game winners, the Lamar School Raiders.  This is an AAAA District 3 game that has playoff implications.  It's another irresistible force vs immovable object game, with Lamar averaging 32 points a game while East Rankin is giving up only 11 points a game.  Expect an intense chess match.
6 – Hazlehurst (5-0) at Wesson (3-3) – One of the few remaining undefeated teams, Hazlehurst opens 3A District 7 action against the Wesson Cobras.  Both have stout defenses, both yield less than 15 points a game, but Hazlehurst has burst onto the scene by averaging 45 points a game.  This stays a match if Wesson stops them from running away early.
7 – Tylertown (5-0) at Perry Central (4-2) – The Chiefs, after punching up for many weeks, start 3A Region 8 play against the Perry Central, sporting an excellent 4-2 record.  Tylertown has crushed their opponents on defense, giving up only 9 points a game.  Perry Central has made their claim by averaging 28 points a game.  This is a top-heavy division, with Collins, Tylertown, West Marion, and Perry Central all fighting for spots.  If you're on the highway between Hattiesburg and Lucedale Friday night and you see the lights on, park your car and go buy a ticket to watch a major region matchup.
8 – Columbus (3-2) at Tupelo (3-2) –  The Falcons of Columbus come off an impressive win against DeSoto Central (23-21) and play again in 6A Region 1 against the Tupelo Golden Wave.  This region includes Olive Branch, South Panola, and Tupelo, so a win by Columbus is a must to keep playoff hopes alive.  On paper they look evenly matched, but many watchers say Tupelo is the sleeper in the region.  A win by Columbus will go miles towards the final season record and a chance to play in Oxford.
9 – Caledonia (4-1) at Houston (5-1) – This may be Houston's year. After years of fine teams, this edition is off to a splendid 5-1 record.  Along the way the Hilltoppers have combined lightning offense (27.5 ppg) with stifling defense (5.5ppg) to stand on top of 4A Region 4.  They face no. 2 in the region to continue this, the Caledonia Confederates.  With an equally fine record of 4-1, the Confederates are only a shade less than Houston in offense (26.2ppg) and defense (10.5).  Interestingly enough, both defenses pitched shutouts last week.  For Houston to turn the corner, they must have this game.  For Caledonia, this loss may end it.  Expect a great night of football in Houston on Friday.
10 – Simmons (4-0) at Shaw (4-2) – Rounding out the top ten, the Blue Devils of Simmons meet Shaw in Hollendale for a matchup of 1A Region 2.  This is Simmons first region game, and they will put their undefeated record against the Shaw Hawks.  In the four games Simmons has played, they have pitched two shutouts, one against South Delta and one against Palmer.  Only two touchdowns have been scored, making their average yield an amazing 3 points a game.  Shaw has a good 4-2 record and have been averaging 23 points a game.  Simmons gets a great test in their first region game of the season.