Mississippi's Dynamic Duo break Alabama's Secondary, combine for 4 touchdowns in beating Alabama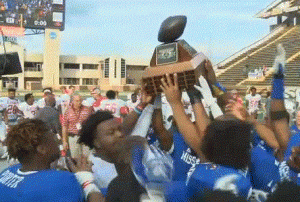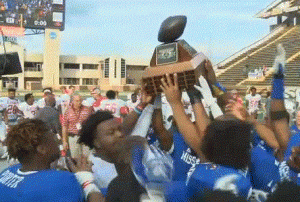 Mississippi/Alabama All-Star Classic wrap-up:
Keon Howard of the Golden Tornadoes of Laurel's last taste of the gridiron was difficult, losing to the eventual 5A champions Wayne County on November 16th. However, today he was able to taste the sweet with the bitter, not only for himself but for the whole state of Mississippi.
Today in Hattiesburg, Howard completed 17 out of 27 attempts for a blistering 304 yards and 4 touchdowns, helping the Mississippi All-Stars beat the Alabama All-Stars, 28-21. The win broke an eight-year dry spell for Mississippi, the last win coming in 2007. Howard however was not the Most Valuable Player. That honor was co-shared by his wide outs, A.J. Brown of Starkville and DeKaylin Metcalf of Oxford. The dynamic duo ran roughshod over the Alabama All-Star secondary in Hattiesburg. Brown had a game high 9 receptions for 137 yards and 2 touchdowns, including a 17 yarder at the end of the third quarter. Metcalf had 5 receptions for a game high 151 yards and 2 touchdowns, an amazing 30 yards per reception. The senior from Oxford put Mississippi on the scoreboard after Alabama struck first with a 76 yard interception return by Alabama's Benjamin Davis of Gordo in the first quarter, finishing a 69 yard completion to tie the game at 7-7.
Alabama struck back with a 12 play 70 yard drive that took only 3:30 seconds off the clock in the first quarter, with Tyler Johnson of Alabama's Spanish Fort completing to T.J. Simmons of Clay-Chalkville High for a 10 yard touchdown. The white-hot first quarter did not end, with Keon Howard completing another streaking drive, only 3 plays for 48 yards, finishing with a 35 yard pass to A.J. Brown. Brad Wall of Ocean Springs, who handled the kicking, added the extra point and the first quarter finally ended in an exhausted close, with the score tied 14-14.
From then on both teams' defenses tightened up. Mississippi's defense recorded two interceptions while Alabama's defense, after the 76 yard opening pick six, recorded two more. Jack Sims of Madison Central, punting for Mississippi, kept the Alabama All-Stars bottled up most of the day, averaging 46.8 yards a punt with the longest being 51 yards, including one punt downed inside the 20. Mississippi recorded 2 sacks on the day to 1 for Alabama.
After a scoreless second quarter, Mississippi brought the pressure back to Alabama when A.J. Brown caught his 17 yard touchdown from Howard, capping a 7 play 50 yard drive that took only 2:14 off the clock and ended the 3rd quarter.
Mississippi's defense never let up. Quin'Chaughn Jones of Lafayette and Jeffery Simmons of Noxubee County led the defense with 7 tackles each, with Racheem Boothe of Bassfield recording 6 tackles and a sack, Nigel Knott of Germantown with 5 tackles, and Jacques Turner of D'Iberville recorded five tackles.
At the 6:54 mark in the 4th quarter the Mississippi All-Stars made it a 2-score game by finishing an 8 play, 61 yard drive with a 32 yard touchdown pass to DeKaylin Metcalf. Brad Wall ended the scoring for Mississippi with the extra point and at 28-14, the pressure was on Alabama to score quickly. Score they did, finishing an 8 play 70 yard drive with a 21 yard pass to T.J. Simmons from Alabama's Tyrrell Pigrome of Clay-Chalkville, but only 30 seconds remained in the game. George County tight end Brandon Walley made the crucial recovery of the onside kick and Mississippi ran out the clock for the first win in eight years.
The game was unique in that every touchdown scored was through the air, including the 76 yard interception return for a touchdown. Alabama ran for 155 yards while passing for 154, with La'Michael Perine of Theodore the leading rusher of Alabama with 7 carries for 51 yards with the longest carry of the day for 48 yards. Mississippi had 69 yards rushing with Tyrell Price of Lafayette the leading rushing with 8 carries for 31 yards with a longest run of 8 yards. Keon Howard had the longest run for Mississippi of 19 yards. Tre'Veon Nelson of Simmons ran 6 times for 24 yards with a long run of 11 yards and Vijay Miller of Itawamba AHS had 3 carries of 12 yards with a long of 11 yards. Mississippi through the air had a combined passing total of 324 yards, with Vijay Miller adding to Keon Howard's total with 1 completion of 2 attempts for 22 yards. Along with A.J Brown and DeKaylin Metcalf, Octavious Cooley of Laurel had 1 catch for 16 yards and Jordan Duncan of Oak Grove had 1 reception for 9 yards.
Next week the high school football season officially comes to a close with the 2015 edition of the Bernard Blackwell North/South All-Star Football Game. The game will pit 2 teams of 40 all-star players from the north and south regions of Mississippi. This year the game will be held in Milner Stadium in Gulfport on Saturday, December 19th, starting at 11:35AM. Broadcasting of both video and audio will be available at FNUTL.COM. Join Russ Robinson and Jake Wimberly as they officially close the season on Mississippi High School football.