Who was Bernard Blackwell? Pondering one of the Pioneers of Mississippi High School Athletics.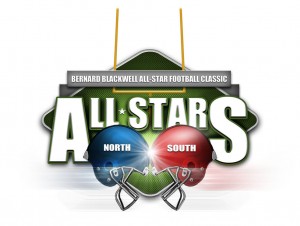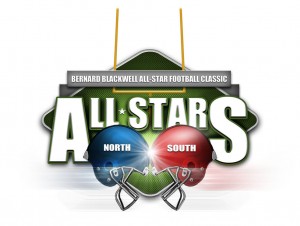 As the annual Bernard Blackwell North/South All-Star Game is getting ready to go in Gulfport, may we ask: who is Bernard Blackwell?
Bernard Brown Blackwell is one of Mississippi's finest athletes ever to play football. He played at a nondescript position, one away from the spotlight at left guard. Yet his impact to Mississippi football is felt to this day, both on, and most importantly, off the field.
Bernard Blackwell was born on August 20, 1920 in Philadelphia, the heart of Neshoba County. A graduate of Perkinston High School, he went on to play at Ole Miss, his first brush with his future. From 1944 to 1947, he anchored the offensive line for John Vaught's very first team and started every game for four years, the first player in Rebel history to accomplish this. In his senior year he was an instrumental part of the first Ole Miss team to win the SEC title, going 9-2 and playing with such legends as Charlie Conerly, Dixie Howell and Barney Poole. This Ole Miss team capped the season with a 13-9 win over TCU in the 1948 Delta Bowl in Memphis. He was more than a football player however. He was a multisport player, a member of the Ole Miss baseball, basketball and track teams.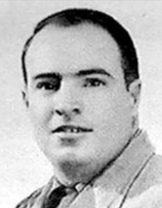 Blackwell was named on the All-American squad of 1947 and signed a contract with the New York Giants. However, the professional game was not in his future, to the detriment of professional football and the good of Mississippi. At 21, Bernard Blackwell became coach of Northwest Junior College in Senatobia, the youngest head coach in Mississippi junior college history. After two years he went on to coach at West Tallahatchie High School from 1950 to 1956, winning both football and track district championships. 1954 was a bellwether year; he was named Coach of the Year by the Delta Valley Conference and in perhaps his most lasting contribution to Mississippi football, formed the Mississippi Association of Coaches (MAC).
Leaving West Tallahatchie in 1956, Coach Blackwell went to Greenville High and help establish one of the premier programs in Mississippi. Greenville won the 1957 and 1958 Big Eight football titles. His baseball teams won two district, two North Mississippi and two American Legion District crowns. Coach Blackwell departed the Delta after the 1958 season as he was hired as head football coach on the Coast at Pascagoula High, where they went from 0-8 in 1958 to 7-2 in 1959.
In 1959 Bernard Blackwell departed for Clinton and Mississippi College, where he would remain for the rest of his career. Bernard Blackwell devoted his life to Mississippi College and the MAC, was a member of the Board of Directors until 1963, then was named Executive Director, a post he served until 1993. Under his membership the MAC grew from 300 to over 2,000. He solicited and received corporate sponsorships for the MAC and broadened its financial standing. He expanded the MAC to include programs not available in any other coaching associations across the country.
The MAC adopted and funded a Memorial Athletic Benefit and Permanent Disability Plan which has paid off temporary and permanent disability, and death claims. The Mississippi Association of Coaches established the first athletic training workshop for high school and college students in the United States. The association also supported the adoption of a program to determine state championships in high school football still used to this day and established a permanent job and coaching career file for coaches. Coach Blackwell and the MAC established a Coaches Hall of Fame, which held its first class induction in 1973, and is an annual MAC event. He served as Chairman of the MAC Hall of Fame Selection Committee. In addition to the Hall of Fame, an entire award program was created for high school and junior college coaches for all sports.
Included is the MAC's expansion to baseball, softball, basketball, soccer, track, tennis, and cross-country clinics. They sponsored training in nutrition, drug abuse, sports medicine, and established a college credit for working in clinics. In a tough decision, Coach Blackwell supported efforts to adopt the "no pass – no play" rule for athletic eligibility. He negotiated the Mississippi/Alabama All-Star football and basketball games.
It is impossible to see the modern form of Mississippi High School athletics and not see Bernard Blackwell's hand. He made major changes in athletic administrations, helped to form strong bonds between the coaches, fans and players in all athletic sports.
All of Coach Blackwell's contributions helped make high school sports in Mississippi better, more enjoyable, and safer for the student-athletes who play the game. His passion and love for the MAC, Mississippi College, and Mississippi in general helped build a place where Mississippi ranks in the top five of states with players that graduate to college ranks, based on per capita. He singlehandedly brought Mississippi from the conference system where regional teams played each other regardless to size to regions where teams of equal size were matched to improve competition.
Coach Blackwell passed away in 1993 at the age of 73, but lived long enough to see Mississippi lead the way in modernizing high school and athletic administrations and watch his beloved Mississippi College defeat Jacksonville State in 1989 for the Division II National Championship. His Hall of Fame inductions include the Mississippi Association of Coaches in 1980, the Mississippi College Athletic Hall of Fame in 1991, and the Mississippi Sports Hall of Fame in 2001.
As we prepare for the Bernard Blackwell North/South All-Star game, let us pause for a second to consider the contributions of this one man who made a difference in all the lives of those who played for him and those he helped through his contribution to both sports and society. Mississippi was partly shaped by the efforts of Bernard Brown Blackwell, and we are forever in his debt.
— G. David Shows, a.k.a., "Dr. Dave", is the webmaster of fnutl.com. Born in Gulfport, raised in Long Beach, a former resident of Columbia, and a former right tackle for the Gulfport St. John Eagles, he is an associate professor of Marketing at Appalachian State University in Boone, NC