Will the Thrill's Power Rankings – 2A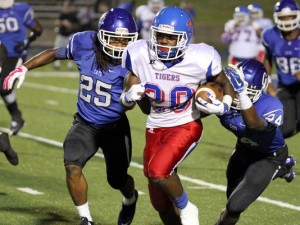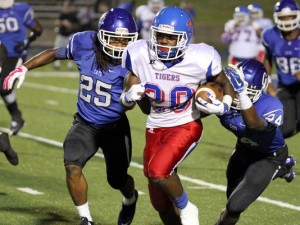 Will the Thrill's Power Rankings – 2A
Welcome to our all-new Will the Thrill Power Rankings for all of the MSHAA. The rankings are based upon strength of schedule, offensive strength, and defensive ability. The rankings are bought to you as food for thought and are non-binding.
Week 11 – Division 2A
Note: With the playoffs around the corner, we bring the top 32 teams in the division
Perry Central drops to number 10 after their loss to Philadelphia, after their loss to Philadelphia, now at #9. Scott Central remains #1 at 9-0, followed by Taylorsville and Collins. The Collins Tigers are back in championship form at 8-2. Madison St. Joseph, Winona, and South Delta round out the top 7.
Sweet 16

			       PP1   PP2    PP3			CLASS

			        UP   OPPO.  OWN	POWER		2A

SCHOOL(REGION/DISTRICT)	   W L FRONT WINS  WINS	POINTS	AVG.	RNKNGS

SCOTT CENTRAL(4-2A)	   9 0	39    37   126	202	22.444	1

TAYLORSVILLE(5-2A)	   8 2	38    45   126	209	20.900	2

COLLINS(8-2A)	           8 2	46    51   112	209	20.900	3

MADISON SAINT JOSEPH(6-2A) 5 1	20    25    70	115	19.167	4

WINONA(2-2A)	           7 3	38    55    98	191	19.100	5

SOUTH DELTA(3-2A)	   8 2	32    41   112	185	18.500	6

BALDWYN(1-2A)	           5 5	48    46    70	164	16.400	7

AMITE COUNTY(7-2A)	   5 5	40    39    70	149	14.900	8

PHILADELPHIA(4-2A)	   9 1	48    36   126	210	21.000	9

PERRY CENTRAL(8-2A)	   8 1	39    38   112	189	21.000	10

EUPORA(2-2A)	           6 3	31    56    84	171	19.000	11

LAKE(4-2A)	           7 2	31    39    98	168	18.667	12

BAY SPRINGS(5-2A)	   6 4	44    55    84	183	18.300	13

EAST WEBSTER(2-2A)	   5 3	24    48    70	142	17.750	14

NEWTON(4-2A)	           5 3	28    42    70	140	17.500	15

PISGAH(6-2A)	           6 3	33    40    84	157	17.444	16

CALHOUN CITY(2-2A)	   6 3	31    41    84	156	17.333	17

O'BANNON(3-2A)	           6 3	30    39    84	153	17.000	18

LEFLORE COUNTY(2-2A)	   5 4	41    40    70	151	16.778	19

NORTH FORREST(8-2A)	   7 3	28    41    98	167	16.700	20

HEIDELBERG(5-2A)	   5 5	44    52    70	166	16.600	21

WEST TALLAHATCHIE(3-2A)	   6 4	30    49    84	163	16.300	22

MIZE(6-2A)	           6 4	32    47    84	163	16.300	23

PELAHATCHIE(6-2A)	   5 4	29    45    70	144	16.000	24

WEST BOLIVAR(3-2A)	   4 5	34    53    56	143	15.889	25

LELAND(3-2A)	           6 3	27    29    84	140	15.556	26

WALNUT(1-2A)	           4 2	12    18    56	 86	14.333	27

EAST UNION(1-2A)	   4 5	35    33    56	124	13.778	28

ENTERPRISE(CLARKE)(5-2A)   2 8	40    59    28	127	12.700	29

UNION(4-2A)	           2 7	29    57    28	114	12.667	30

BOGUE CHITTO(7-2A)	   4 5	27    29    56	112	12.444	31

PUCKETT(6-2A)	           4 6	34    33    56	123	12.300	32