Mississippi Association of Coaches announce the All-Star Lineups for the MS/AL and Bernard Blackwell All-Star Games.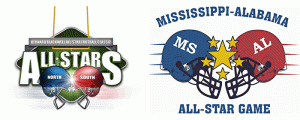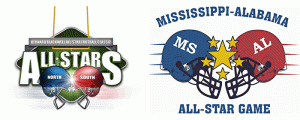 The Mississippi Association of Coaches announced the coaches and squads for both the Bernard Blackwell and MS-AL All-Star games of 2019.
The 2019 33rd Annual Mississippi/Alabama All-Star Football Game will be played in Hattiesburg at M.M. Roberts Stadium on the campus of the University of Southern Mississippi on Saturday, December 14 at 12 Noon. Tickets will be $10 and children 5 and under are free. Brad Breland, coach of the Union High School Yellowjackets was named the 2019 head coach of the Mississippi All-Stars.
The next week on Saturday December 21st, the 2019 71st annual Bernard Blackwell All-Star Game will pit the North All-Stars against the South All-Stars at Milner Stadium in Gulfport. Kickoff will be at 11:30 and tickets will be $10. Clinton Gatewood of the Greenwood High Bulldogs was named coach of the North All-Stars and Tony Vance of the Hattiesburg High Tigers was named coach of the South All-Stars.
The Alabama All-Stars hold a 22-10 record against the Mississippi All-Stars, but the Mississippi All-Stars have won the last 3 out of 4, winning last year 24-20 in Montgomery. Jarod Conner of Hattiesburg High came away with All-Star honors in 2018, rushing for 122 yards and two touchdowns on 18 carries.
Here is the Roster for the 2019 Mississippi All-Stars for the 33rd annual MS/AL All-Star Game:
[embeddoc url="http://fnutl.com/wordpress/wp-content/uploads/2016/05/2019-20-MS-AL-Roster.pdf" height="800px"]
Here is the Roster for the 2019 North All-Stars for the 71st annual Bernard Blackwell All-Star Game:
[embeddoc url="http://fnutl.com/wordpress/wp-content/uploads/2016/05/2019-20-BBC-North-Team-Roster-for-approval.pdf" height="800px"]
Here is the Roster for the 2019 South All-Stars for the 71st annual Bernard Blackwell All-Star Game:
[embeddoc url="http://fnutl.com/wordpress/wp-content/uploads/2016/05/2019-20-BBC-South-Team-Roster-for-approval.pdf" height="800px"]